Network Surveillance
Network Surveillance - ICONS
ICONS is designed for Network Operators and Service providers to reduce and shorten support calls (OPEX reduction) by offering enhanced capabilities for end-user support and network performance diagnostics.
Read more
ICONS constantly collects data down to 5 seconds intervals, and an embedded advisory module performs ongoing analysis of the collected data. Results are stored in databases in both raw and aggregated form. ICONS will suggest potential remedies for found issues without involving the end-user.
Concerning end-user support, ICONS perform full Wi-Fi network analysis. Based on given parameters, an advisory module finds the concerned in-home devices, and analyses the history and current state. Drawn conclusion is used to present not only an identified issue but also to suggest remedy. This way ICONS help Network Operators and Service providers to optimize end-user support. If deeper support is needed, ICONS will provide comprehensive data about the device that the in-home is reporting issue together with historical data and comparison to network average and reference device.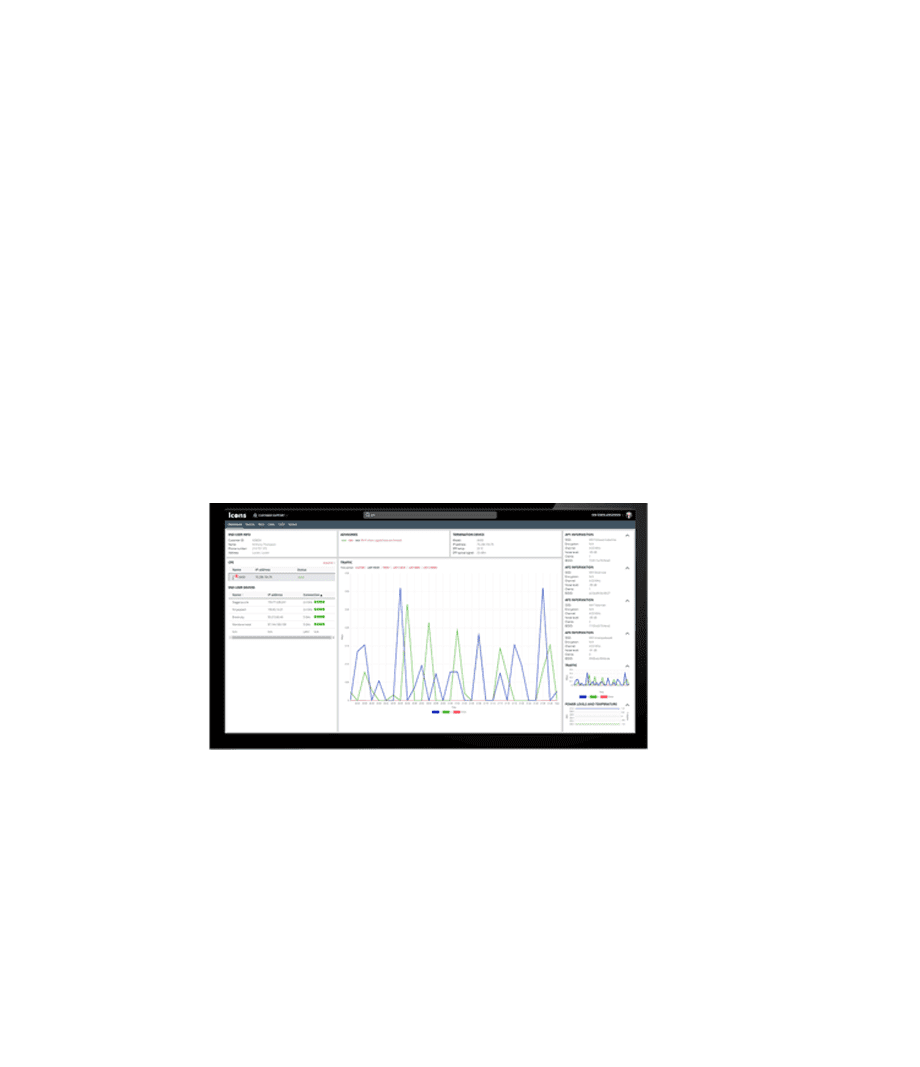 Network Surveillance - ICONS
Off-the-charts reliability
Proven by the high uptime, strong technical performance and extremely low field failure rates across products
Best-in-class Wi-fi
With unique hardware & software design that deliver amazing throughput by the latest 802.11ac Wi-Fi standard
Ease of control
With an impressive number of management protocols integrated and supported
SWAP technology
Unique SWAP technology allows for super-quick installation of FTU and end-user SWAP
SPEND FIVE MINUTES
AND SAVE MONEY
Are you an internet service provider or a network operator? Spend 5 minutes and get an instant estimate of your savings based on your historical data. Send us your yearly roll-out, CPE installation time, yearly replacement volume and RMA. You will receive an indication of your potential 1-, 5-, and 10-year savings.
Give us a ping
Do you have a unique challenge or set of requirements? Send us a message.
We can explore a customized solution that can deliver amazing services
to your customers and help you stand out from your competition.
Take it for a testdrive
Interested in testing our product? We'll send you a free sample so you can test its CPE performance in your lab. Send us a quick message
and we'll take care of the rest.