Wi-Fi App
Wi-Fi App - Secures the best Wi-Fi Experience
Through few intuitive steps, the App helps customers set-up the in-home wireless network to deliver the best possible performance. The App provides access to Wi-Fi optimisation, easy network overview and status while giving easy access to settings, enabling customers to modify SSIDs, device names etc. The App even suggests re-positioning and need of additional Access Points when needed.
Lesen Sie mehr
Make the Most of your Wireless Network
The Icotera Smartphone App has full access to all known Access Points in the in-home wireless network. Whenever an additional Access Point is added to the network, the App will detect it right away. All important Wi-Fi settings can be changed on the spot and results are validated through instant speed-tests. Whereever the Smartphone or any other client is in the house, its momentary Wi-Fi signal strength will be displayed in the App. The specially designed 'Optimise Wi-Fi' feature will help the user change the location of the Access Points to achieve optimal Wi-Fi coverage and performance throughout the house.
The App makes it very easy to change or share the SSID & password with guests. All active Clients are easily observed and if a Client has no connectivity or internet performance issues, the App can be used to quickly investigate what might be the problem.
Intuitive initial Access Point scan and login procedure

Configure Wi-Fi settings for each Access Point

Change & share SSID & Password

Optimise Access Point location to increase coverage and performance

Notice if something is not right

Great overview of all connected clients

Easily add new Access Points

Speed test check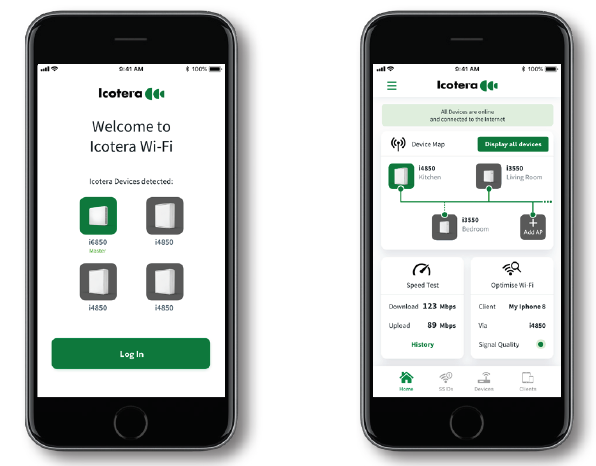 Wi-Fi App - Secures the best Wi-Fi Experience
Close
Bitte geben Sie uns einige Details
Und dann senden wir Ihnen das Datenblatt des gewünschten Produkts
Off-the-charts reliability
Proven by the high uptime, strong technical performance and extremely low field failure rates across products
Best-in-class Wi-fi
With unique hardware & software design that deliver amazing throughput by the latest 802.11ac Wi-Fi standard
Ease of control
With an impressive number of management protocols integrated and supported
SWAP technology
Unique SWAP technology allows for super-quick installation of FTU and end-user SWAP
PINGEN SIE UNS AN!
Haben Sie eine besondere Herausforderung? Schicken Sie uns eine Nachricht. Wir können eine maßgeschneiderte Lösung finden, die Ihren Kunden erstaunliche Vorteile bietet und Ihnen hilft, sich von Mitbewerbern abzuheben.
TESTEN SIE UNS
Möchten Sie unser Produkt testen? Wir senden Ihnen ein kostenloses Muster. So können Sie die CPE-Leistung in Ihrem Labor testen. Senden Sie uns eine kurze Nachricht und wir kümmern uns um den Rest.