Befähigen Sie Ihren Erst-Support
– und senken Sie die Betriebskosten
Wenn sich Endbenutzer an einen Help Desk wenden, da sie zu Hause Probleme mit der Netzwerkleistung haben, steht der Erst-Support an vorderster Front. Das oberste Ziel von Netzwerkbetreibern und ISPs sollte stets sein, Leistungsprobleme mit dem Heimnetzwerk mit dem Erst-Support zu lösen, um die Kosten möglichst gering zu halten. Der Erst-Support ist jedoch häufig damit konfrontiert, mehr oder weniger im Dunkeln zu tappen, da die Problemlösung auf unzureichenden Angaben von Endbenutzern basiert, die mit der Technologie nicht vertraut sind.
Mit einem intelligenten Netzwerküberwachungssystem können Sie das ändern. Da über 70 % der Help-Desk-Anrufe das Wi-Fi betreffen, ist eine in das heimische Wi-Fi integrierte Netzwerküberwachung eine richtungsweisende Veränderung für den Support. Die Help-Desk-Funktion wird nicht nur auf das nächste Level gebracht, da Netzwerkbetreibern und Dienstleistern aufgrund erhöhter Kapazitäten in puncto Unterstützung und Netzwerkleistungsdiagnostik weniger und kürzere Support-Anrufe (OPEX-Reduktion) ermöglicht werden, die ihr Geschäft profitabler machen, auch die Kundenzufriedenheit steigt signifikant.
Network monitoring
Network Surveillance - ICONS
ICONS is designed for Network Operators and Service providers to reduce and shorten support calls (OPEX reduction) by offering enhanced capabilities for end-user support and network performance diagnostics.
Lesen Sie mehr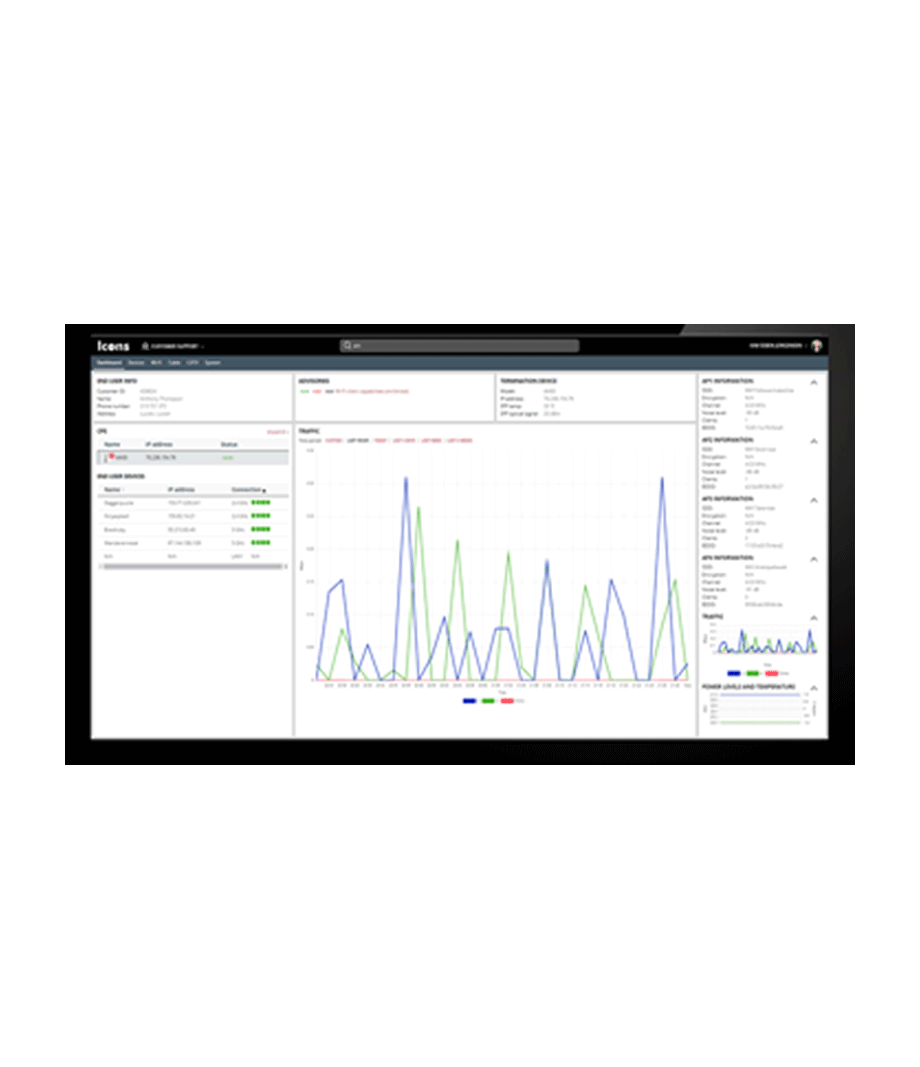 Network monitoring
Wi-Fi App
Through few intuitive steps, the App helps customers set-up the in-home wireless network to deliver the best possible performance. The App provides access to Wi-Fi optimisation, easy network overview and status while giving easy access to settings, enabling customers to modify SSIDs, device names etc. The App even suggests re-positioning and need of additional Access Points when needed.
Lesen Sie mehr