Following a period with multiple FTTH gateway product launches from Icotera, we are now introducing a new standard-setting and vendor independent GPON ONT - the i5800 - with state-of-the-art Wi-Fi, easy management and a Smart Home platform for Fiber-to-the-Home (FTTH) networks    
"We really wanted to develop a great GPON ONT product that offer service providers a high-quality and vendor independent ONT option, which has truly been missing in the market. This product has been developed with both the service providers and end-users in mind, which is demonstrated, among others, by the easy management and superior Wi-Fi solution", says Peter Lund, CEO at Icotera. He underlines four key features of the new i5800 GPON ONT:


Innovative Wi-Fi solution
Vendor independence and OLT compliancy
Easy management and installation
Unique Smart Home platform
Innovative Wi-Fi solution
With Wi-Fi becoming the preferred communication technology inside the home, the need for fast and stable wireless connections is becoming ever more important. The i5800 ONT delivers not only backwards compatibility with any 802.11a/b/g/n Wi-Fi certified device, but also includes the very latest standard - 802.11ac. With the added 802.11ac solution, the i5800 is capable of delivering up to 6 times the bandwidth of similar products on the market.
"Stable Wi-Fi at end-user premises is one of the biggest concerns for today's network operators and service providers" says Kim Esben Jørgensen, CTO at Icotera. "With this product we are bringing a fantastic Wi-Fi solution to market that enables end-users to experience stability from wireless connections on pair with fixed connections. Together with LAN, VoIP, CATV and USB 3.0 interfaces, this product really outperforms comparable products on the market".
Vendor independence and OLT compliancy
Another key feature of the i5800 ONT is the fact that it is compliant with all leading GPON OLT vendors and thereby vendor independent, which is a key feature across Icotera's product portfolio. The i5800 is thus not locked-in to any proprietary back-end network systems, which enables the product to gain widespread adoption.
For the network operator and service provider, this means that there are no limits whatsoever as to what systems and products they can include in their network architecture - before and after the fiber termination point.
Easy management and installation with TR-069 and auto-provisioning
The i5800 GPON ONT requires less work from operators and service providers. Firmware upgrade is completed very fast and in a fail-proof manner with dual-bank firmware upgrades. Also, there is no requirement for network operators to invest in expensive (and vendor-locked-in) management systems, the i5800 is prepared for the majority of today's management systems. The ONT can be controlled by a number of management protocols (e.g. OMCI, SNMP, CLI via SSHv2 or Telnet, TR-069 and an operator-friendly web interface) or Icotera's fail-proof zero-touch auto provisioning mechanism. Furthermore, the i5800 GPON ONT is continuing the award-winning industrial design from other Icotera products, which includes a unique slide-on design that facilitates problem-free installation of the ONT.
Integrated Smart Home platform with great advantages
Another future-oriented feature is the Smart Home platform integrated into the ONT. This platform offers great solutions for end-users within alarm & surveillance, energy management and home automation, which is offered by the service provider or network operator, providing them with great opportunities for additional revenue streams and increased customer loyalty.
"Imagine a scenario where you in a simple way can unlock your door and turn off your alarm system while sitting at work, to let a plumber inside your house to fix your sink, while having your security cameras checking that he is doing his job. You can schedule electric devices to be turned on or off at certain times, or automatically turn down the heating system at night or while at work to save energy. The i5800 is ready for that with our unique cloud-based platform," says Peter Lund.
Commercial expectations
Icotera plans to launch the product across Europe, where GPON networks are increasingly being implemented, and expects it to be a GPON ONT blockbuster product.
"We expect it is going to be a high volume product - it is a very strong offering, addressing customer needs for a high-quality product with the lowest total cost of ownership and with the right features as well as an attractive design. In line with this, the product has already experienced great initial interest with several new and existing customers testing the product" says Peter Lund.
Further information and press photos:
Technical details and more information can be found at www.icotera.com.
For further information and inquiry of press photos please contact:
Marketing Manager at Icotera, Simon Birk, [email protected], +45 31 666 999
-------------------------------------------------------------------
Icotera is a leader in innovative optical fiber gateway products and Smart-Home solutions for Fiber-to-the-Home (FTTH) networks. Icotera is dedicated to providing fiber network operators with tailor-made, flexible and cost-effective solutions that fit individual needs. With more than ten years of experience in optical fiber solutions Icotera is today the preferred FTTH solution partner for leading European network operators and service providers, providing high-speed Internet broadband and content services to hundreds of thousands of private homes.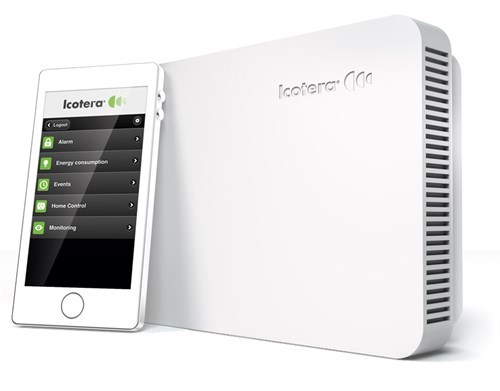 Sign up for our newsletter here